Finished Products
Care series with innovative active ingredients – produced with proprietary technologies
PolyNeo processes highly effective raw materials in its own finished products, which are extracted through complex processes. The active ingredients are researched and developed using innovative technologies. They are the main ingredients of our own care series. Our skin care products are developed with a strong focus on the purity and outstanding effectiveness of the ingredients. The fair cultivation and trade of the natural products is also a key priority. The company ensures high quality standards, fair trade and sustainability through certifications.
With its frais vent and curaloe brands, PolyNeo offers finished products on the market that can be purchased by consumers and trading partners. See the product pages for more information.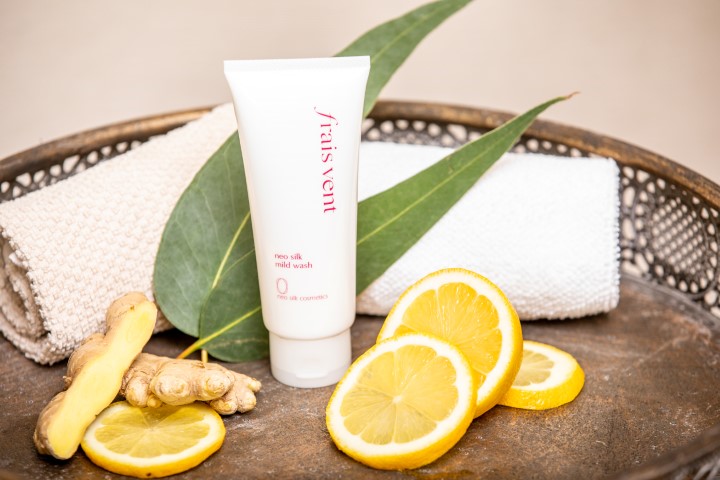 frais vent  
In the frais vent cosmetics range, PolyNeo combines its expertise in effective technologies and formulations with precious plant extracts and the novel NEOSILK Collagen. It is extracted through a unique process – the only one of its kind in the world. The natural and refreshing anti-ageing care series consists of herbal ingredients and innovative active substances. In addition, the face care is free of substances harmful to skin and free of fragrances and dyes, making it especially well tolerated by dry and sensitive skin.
You can find out more about frais vent and its unique benefits on the product page, which also provides more information for trading partners and consumers.
curaloe
curaloe aloe vera gel for facial and body care is used for intensive skin care to relieve skin irritation and injuries. It quickly alleviates skin redness and injuries and promotes the healing process. 
The gel consists of 90% pure organic aloe vera and contains no parabens, mineral oil or alcohol. It is therefore suitable for all skin types. The aloe vera is produced with a strong focus on sustainability and social responsibility.
Detailed information about the cultivation and the product curaloe can be found on the product page
Are you interested in our finished products? Would like to use them and offer them to your customers? Contact us to discuss sales opportunities.